How Much Does Garage Floor Coating Cost?
Are you tired of looking at your dull and stained garage floor? Are you considering giving it a makeover with a concrete floor coating? If so, you're probably wondering, "How much does this cost?" It's a valid question and one that many homeowners have before investing in a garage floor coating. After all, no one wants to spend their hard-earned money on a project that may not be worth it in the end. Here we will take an honest look at the costs of a garage floor makeover with coating. From the initial installation to long-term maintenance, we'll break down the expenses and help you decide if it's a worthwhile investment for your home. So let's dive in and discover the true garage floor coating cost and whether or not it's worth it for your specific needs and budget.
The average cost for garage floor coating per square foot usually runs from $4.00 – $14.00 per square foot for concrete coatings.
Disclaimer: These are approximate prices and each project has its own unique circumstances, material selections, expectations, and job scope. No two floors are the same (even if they are), the needs of each client are drastically different.
Factors That Determine The Cost Of A Concrete Garage Floor Coating Estimate
Size Of The Area Of Your Garage Floor
The size of the area of your floor is a crucial factor when determining what the cost of your garage floor coating project will be. The larger the area, the more materials and labor will be required, resulting in a higher cost. Our team will conduct a thorough assessment of all the areas you want to be coated and accurately calculate the total square footage required.

Condition Of the Concrete
It's rare for us to come across concrete without any imperfections. We typically find cracks, pits, peels, or lifting. To ensure proper coating adhesion, all damage must be fixed first. The older the floor, the more repair work it may require, but don't fret, most projects are still completed in just one day.
Existing Coatings Applied?
Did you or the previous owner apply an epoxy coating or have a contractor do it? Typically, these coatings peel, flake, and deteriorate. DIY products from home improvement stores are especially problematic to apply properly and lack durability. Similar to damaged concrete, coatings in disrepair will require leveling or removal before the application of a new poly coating.
Professional Concrete Coating Installation
When it comes to garage flooring, epoxy is a top pick due to its exceptional durability and long-term protection. The price for this type of coating varies based on factors like the specific coating used, any extra features like texture or color, concrete repairs needed, removal of existing coatings, and if complex primers or sealants are needed beforehand. On average, the cost is typically around $4 to $7 per square foot. DIY kits can cut expenses, but proper installation demands knowledge, skill, and specialized equipment beyond what is necessary for other coating options. If you're interested in an epoxy coating, make sure to research the expenses beforehand to create an accurate budget.

5-STAR WORK. 5-STAR SERVICE. EVERY TIME.
Breaking Down the Cost of Garage Floor Makeover
We get questions about pricing and costs all the time. One of the most common inquiries we receive is regarding the cost of a garage floor makeover. As with any home improvement project, the price can vary depending on several factors.
First and foremost, the size of your garage will play a significant role in determining the overall cost. Larger garages will naturally require more materials, resulting in a higher price tag. Additionally, the condition of your existing garage floor will also impact the cost. If some significant cracks or damages need to be repaired before the makeover can begin, that will add to the overall expense.
The type of flooring material you choose will also affect the cost. Options such as epoxy, polyurethane, or interlocking tiles each have different price points. It's essential to weigh the durability, maintenance, and aesthetics of each option to make an informed decision.
Finally, if you decide to hire professionals to complete the makeover, labor costs will be an additional factor. The expertise and skill of experienced contractors come at a price, but they can ensure a high-quality and long-lasting result.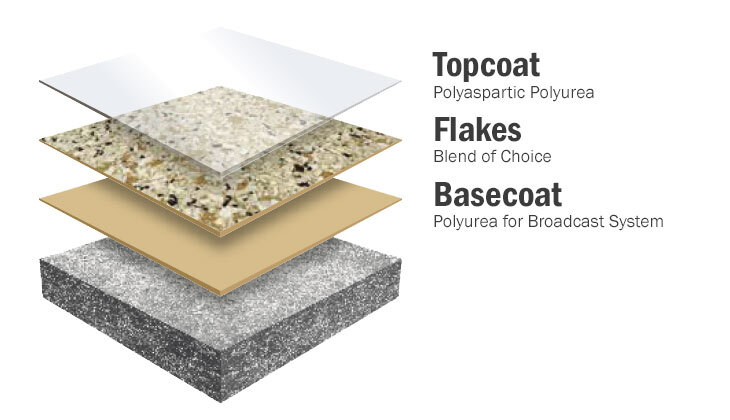 This is a general guideline of the average cost for garage floor coating at ANEWLEAF Concrete Coating in Jacksonville, FL.
These are approximate prices and each project has its own unique circumstances, material selections, expectations, and job scope. Please call for a free in-home estimate at (904) 615-6599! During our visit, we can better understand your needs and the areas being painted.

What is the number one concern when installing concrete coatings?
Chances are, you may have witnessed a neighbor's unsuccessful attempt at a DIY garage floor coating, making it clear that this type of project can easily fail. Whether it's the wrong product choice, improper preparation, or lack of experience, many factors can contribute to a failed concrete coating. That's why it's crucial to consider professional assistance from a reputable company like "A New Leaf Painting" in Jacksonville, Florida. They have the expertise to ensure a successful installation and provide the necessary "Pricing Information and Options" for your specific needs.