How Much Does It Cost For Exterior House Painting?
The Cost Of Exterior House Painting Varies Greatly and Depends On Many Factors.
Here is a General Exterior Painting Prices Guide For Your Home
While exterior house painting has many changing factors, we will still lay out some pricing to give you some ideas to start from. Just keep in mind we are Local Painters in Jacksonville, Florida. The 3 major variables when considering the painting cost for the exterior of your home is:
The texture and condition of the stucco or siding on your home. This can range from the simple "Smooth" or "Scratch Coat" that is flat with a sand finish, then the typical "Rough" texture, and then there is Synthetic Stucco finish which really drinks up the paint!
The height of your home. This ranges from 8′. 10′, 14′ and then 2nd stories and the few 3rd story homes in Northeast Florida.
The third factor is accessibility. Level 1 would be complete accessibility, meaning minimal bushes, pipes, rails, AC units, or shutters. Level 2 has mild bushes. Level 3 has bushes, pipes, rails, AC units, and shutters. The rare Level 4 is very difficult accessibility and that could mean uneven ground or the need for a lift to get to the hard to reach areas.
HOWEVER, IT IS POSSIBLE TO GET A ROUGH BALLPARK PRICE ON HOW MUCH IT WOULD COST TO PAINT THE EXTERIOR OF A HOUSE.
These are approximate prices and each project has its own unique circumstances, material selections, expectations and job scope. Please call for a free in-home estimate (904) 615-6599! During our visit, we can better understand your needs and the areas being painted.
Cost To Paint A House Exterior Stucco?
1,000 to 1,500 square feet
Smaller homes in Jacksonville Florida 1,000 to 1,500 square feet range from $1,700-$3,000:
1,500 to 2,000 square feet
1,500 to 2,000 square foot homes like these in St. Augustine & Orange Park, FL range from $2,500 to $4,400
2,000 to 3,000 square feet
2,000 to 3,000 square foot homes like these homes in Ponte Vedra Beach and Green Cove Springs, FL range from $3,200 to $4,900
3,000 to 5,000+ square feet
3,000 to 5,000+ square foot homes like this near Oakleaf Plantation and St. Johns, FL range from $5,000 and up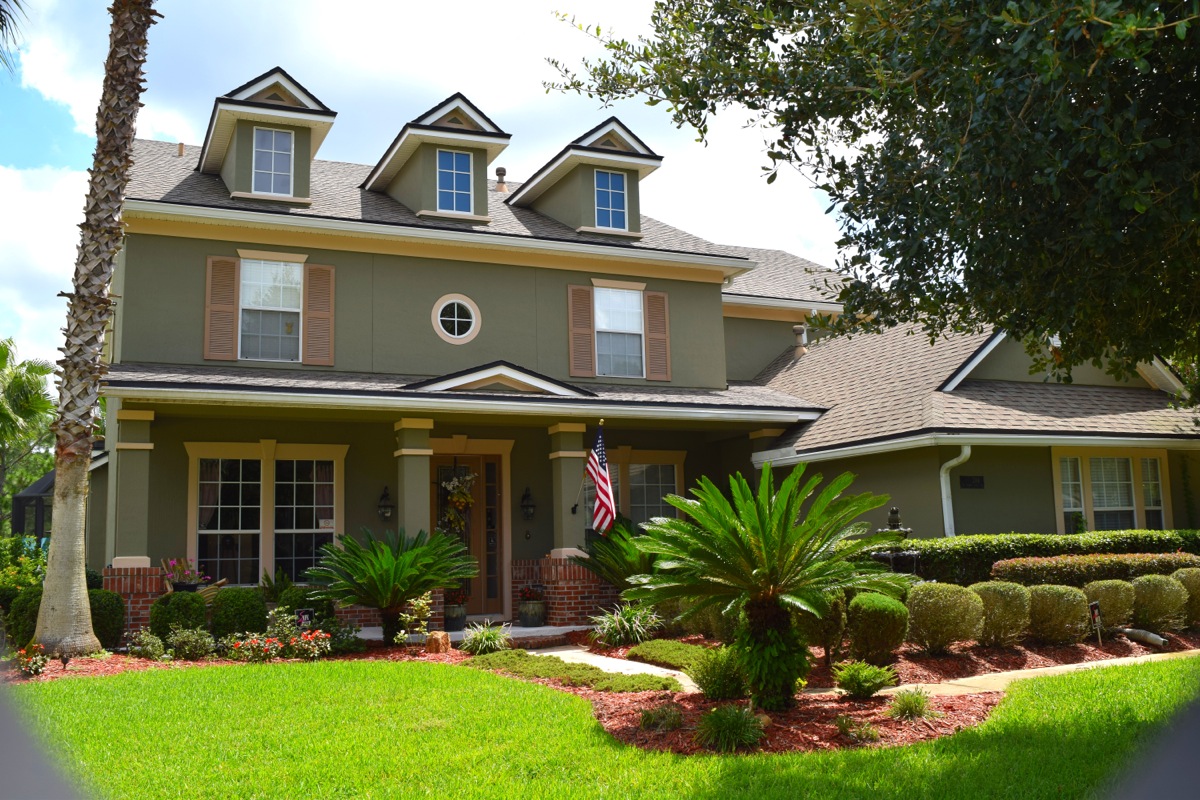 Do you have Stucco Repairs you need to have fixed prior to painting? We can help!
7 Year Material and Labor Warranty
At New Leaf Painting, we have the unheard of 7-year material and labor warranty*. However, if you are not interested in the 7-year warranty*, We offer all our customers a 2-year warranty on ALL work performed in writing. This will save you a few hundred dollars.
Speaking of warranties, when companies tell you they offer a warranty, ask yourself (or the representative of the company):

Is the warranty in writing?
Is it a certificate signed by the company and the paint manufacturer?
Is your specific address printed on the certificate?
Is the certificate transferable to the next owner, should you move?
Is it a NON-pro-rated warranty?
For A New Leaf Painting, the answer to all 5 questions is a resounding, "YES!"
We suggest any time you receive an estimate and you are concerned with the price, just ask where the numbers come from. We believe in "win-win" situations. We are not interested in "win-lose" (or draw)! Let's see, how we can come to a "win-win!" We'll always be happy to tell you!
Recent Blog Post.
What are the two types of exterior house paint to consider?
What is the best exterior house paint?
Exterior paint cost from a professional painter in Jacksonville, FL. All costs include labor and any materials that will be needed to complete the job (paint, prep, plastic, brushes etc.) Each home is unique and requires special attention. Certain exterior painting projects take as little as two days to complete and others as long as two weeks or more. The following information is based on the experience of painting at minimum 4000 homes and businesses in the Jacksonville, Florida area

About A New Leaf Painting
A New Leaf Painting is an award-winning, full-service painting company specializing in home improvements for residential homeowners and commercial businesses. A+ rated BBB accredited business. We are Top Rated Local Painters. A New Leaf Painting offers quality products and courteous, professional service to clients in Jacksonville, FL, and the surrounding metro area. Call for your free home improvement estimate today! (904) 615-6599.
Just A Few Area's We Serve: