How To Find A Concrete Coating Contractor Near Me
Finding The Best 1-Day Concrete Coatings Near Me
Concrete Garage Floor Installers will use many application procedures and different types of equipment and coatings to cover various surfaces when working on a residential or commercial concrete flooring project. Polyurea and polyaspartic garage floor coatings are much different than epoxy garage flooring and big box floor coatings used by many residential painters, these are usually just brushed and rolled on. It's very important to know and understand the drastic difference in quality between a Polyurea coating and an epoxy paint (which many big box stores use and call epoxy floor coating. Another difference is that commercial or industrial projects need a lot more preparation.

Garage Floor Coating Company Near ME

Are you tired of the wear and tear your concrete floor has taken over the years? We know your garage concrete floor has taken a beating over time. All the stuff coming and going, tools, projects, cars, heavy equipment, and even the weather can have a negative impact on your floors. Usually leaving your floors looking worn out from all the stains, cracks, and peeling up epoxy coatings. Are you ready to transform your garage floor? Here at A New Leaf Painting, we specialize in breathing new life and inspiration into your garage floor—or any concrete floor for that matter. Let's transform and rejuvenate your garage with our polyurea coating system, a durable alternative to epoxy flooring!
Our polyurea coating treatments are four times stronger than traditional epoxy. When you choose A NEW LEAF Concrete Coatings as your installer, you can rest assured your concrete floors will stand the test of time no matter how much abuse they see—guaranteed. We offer a no-nonsense written warranty on our surfaces!
The best part? We'll complete the entire project in just one day, while many other epoxy flooring or polyurethane systems can take 3-4 days to cure.

Providing the #1 Concrete Coating product and process on the market. Why Choose Our Concrete Floor Coating System?
Amazing Floors with Serious Protection and Style!
As a team, A New Leaf Painting is seriously passionate about protecting and enhancing your home, it's only natural for us to turn our attention to one of the hardest-working surfaces in your home: your concrete floors. Our newest division, A New Leaf Concrete Coatings, is completely dedicated to helping you turn tired, unsightly, damaged flooring into a freshly-coated and protected showpiece. From garage floors to basement hangouts for the kids, this is the solution you need.
Installing Your 1-Day Concrete Floor Coating System
We install our product in your home, garage, patio, pool deck, driveway, or business in just ONE DAY!

Our coating system is easy to apply and will protect your garage floor from stains, moisture, and everyday wear and tear. Plus, our epoxy finish is available in a variety of colors to match your style! Don't wait – contact us today for a free estimate!
Here are just a few of the reasons why this is such an attractive option (in every way!)

4x Stronger Than Epoxy
Cleaning Is a Snap
Slip-Resistant
Will Not Chip, Peel, or Delaminate
1-Day Installation
15-Year Warranty
Diverse Colors and Finishes are Available
Our Team is Penntek-certified
What Else Can We Coat?

Garage Floors
Porches
Patios
Driveways
Walkways
Basement Floors
Pool Decks
Laundry and Mud Rooms
...and more!
Trusted Contractors with over 600+ reviews on Google, Facebook, Angie's List, BBB, Houzz, Yelp, and Nextdoor.
5-STAR WORK. 5-STAR SERVICE. EVERY TIME.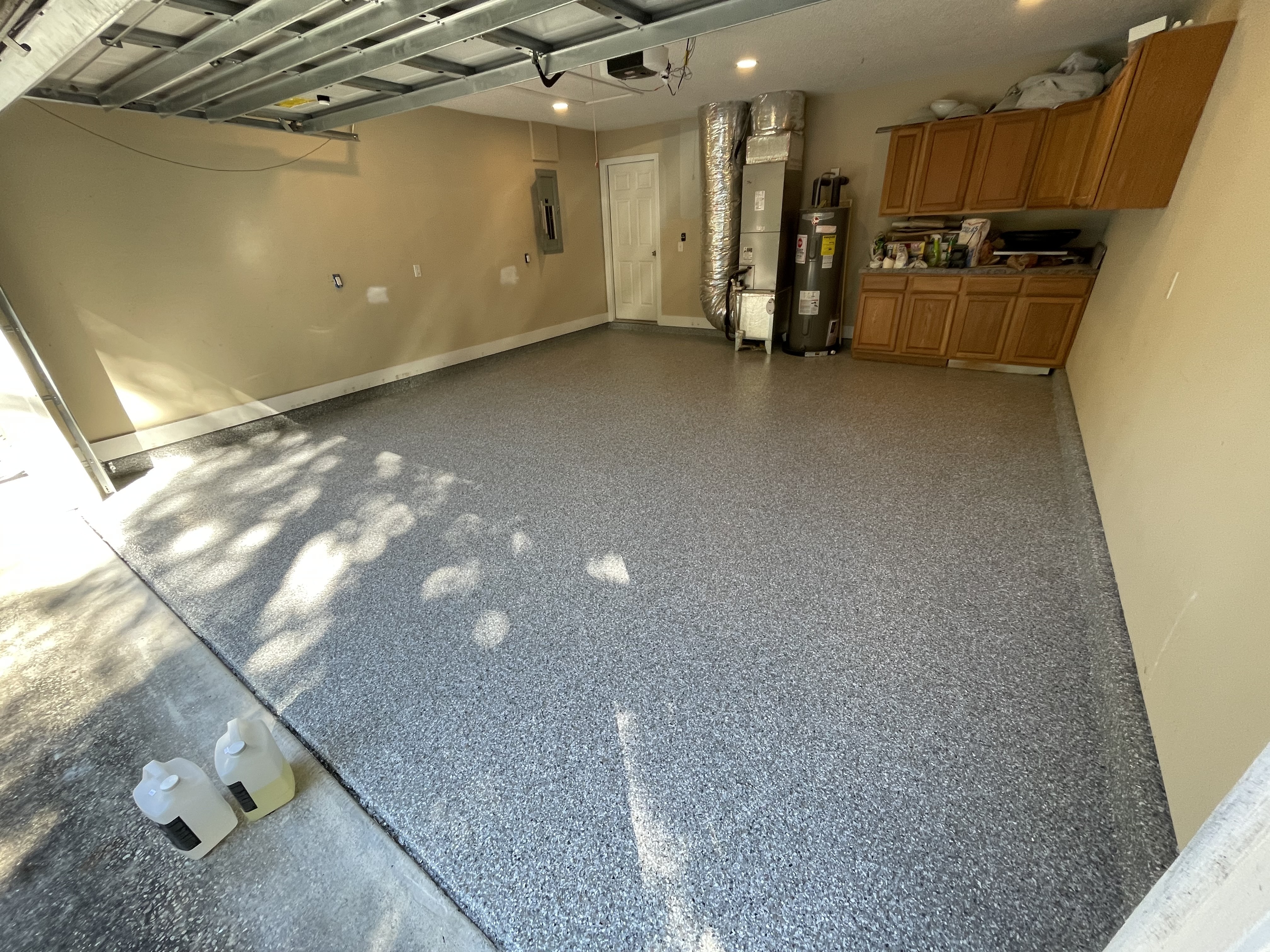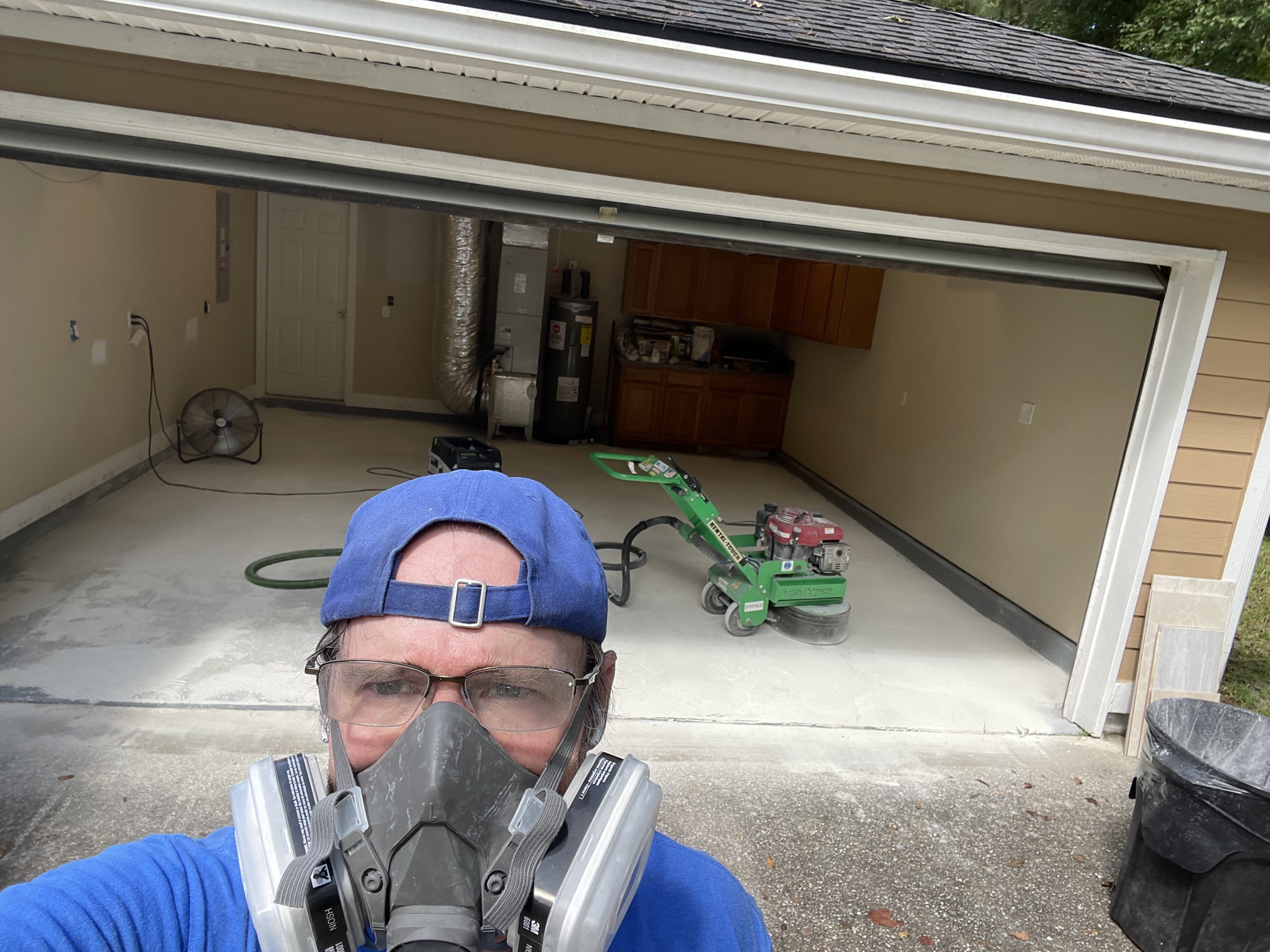 #asset:51:url
From Preparation to Installation, We Do It All!
Step 1: Project Set-Up & Prep Work
Our installers will mechanically prepare your existing concrete by grinding the floor's surface with diamond blades, and hand grinders as needed. This removes a thin layer of concrete, as well as dirt, stains, and oils, in order to create a solid bond with the soon-to-be-applied garage floor coating. We then collect the dust that forms during this process.
Step 2: Repairs the surface
After surface grinding, we start by repairing the cracks, and any other uneven surfaces. In order to get rid of the imperfections, we open them up, clean them out and flood the cracks with our two-part patch system. After it sets and dries, we continue to grind over the surface, ensuring it has a seamless look.

Step 3: Coating and Sealing the Surface
After applying a tinted Penntek or Resin Force Polyurea base coat for a durable foundation, we generously cast the decorative chips by hand to provide optimal color and texture. Then we scrape and vacuum the garage floor to remove any loose or vertical standing flakes, creating a smooth look and feel. Giving the floor an hour of drying time, our installers scrape the floor in a North to South direction, then East to West. At this point, we blow off the excess flake that is collected and vacuum. Finally, we apply the UV-stable Polyaspartic Polyurea clear topcoat to seal up your new garage floor and finish the job.
Our professional painting crews provide garage floor coatings services for residents in Jacksonville, FL. St. Johns FL, St. Augustine, FL, Ponte Vedra FL, Nocatee FL, Jacksonville Beach FL, Fleming Island FL, Orange Park FL, Middleburg FL, and Green Cove Springs FL.
JACKSONVILLE ZIP CODES WE SERVICE
Our local Jacksonville concrete floor coating company is highly recommended in the North East Florida area and is well known for the awesome work we provide. A New Leaf Painting is centrally located in the Deercreek neighborhood (between Phillips Hwy and 295) and is able to cover a number of surrounding Jacksonville neighborhoods near the 32256 zip code. A New Leaf Floor Coatings offers quality concrete coatings for Garages, Patios, Porches, Pool Decks, Driveways, Commercial, and Industrial, and we service to the following zip codes located in the city of Jacksonville, FL, and Duval County, St. Johns County, and Clay County:
32223, 32256, 32257, 32258, 32259, 32225, 32224, 32226, 32233, 32210, 32005, 32216, 32221, 32095, 32092, 32082, 32081, 32003, 32065, 32043, 32246, 32244, 32068, and 32073.
Garage Floor Coatings Jacksonville, FL - Duval County - Julington Creek, San Marco, Riverside, Avondale, Eastside, Northside, Westside, Southside, Arlington, Jacksonville Beach, Atlantic Beach, and Neptune Beach.

Garage Floor Coatings St. Johns County - Fruit Cove, Ponte Vedra, Ponte Vedra Beach, St. Augustine, St. Augustine Beach, St. Augustine Shores, Nocatee, Palm Valley, Sawgrass, World Golf Village, and Vilano Beach.

Garage Floor Coatings Fleming Island - Orange Park, Fleming Island, Green Cove Springs, Lake Asbury, Middleburg, Oakleaf Plantation

Nassau County - Callahan, Yulee, Amelia Island, and Fernandina Beach