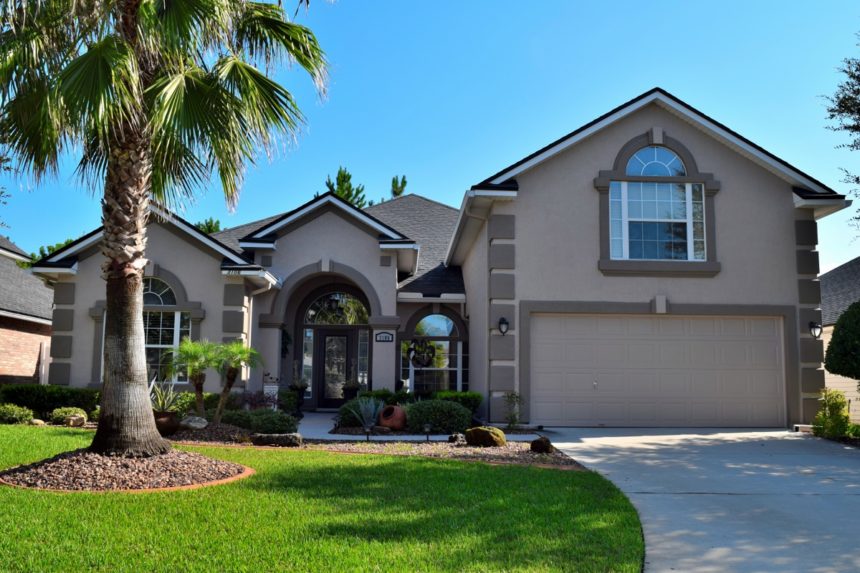 What is the Best Exterior House Paint?
Is it time to add curb appeal and added protection to your property by painting your home's exterior? Here in Jacksonville, Florida, when it's time to repaint your home's exterior, you want a product that won't crack, change colors, or succumb to mold, mildew, and dirt. You want a quality paint product that will last for 8-10 years. Let's examine some exterior house paint options – elastomeric paint and acrylic latex paint.

A Premium Acrylic is the Best Exterior House Paint!
When trying to determine which exterior paint is the best choice for your home or project, it's very important to know the exterior siding or cladding you are painting! Here are a few common exterior finish materials used on most homes; new stucco, existing stucco, wood siding, lap siding or brick, vinyl, and or aluminum siding. Just to name a few. Unless your home has a new stucco finish, we only recommend using premium acrylic paint! I'll be posting another blog post on why at another time! Stay tuned.

Here Are Two Of The Most Popular Exterior House Paint Options
Exterior House Paint Option #1 – Elastomeric
Elastomeric paint provides a waterproof coating for exterior masonry surfaces like concrete, stucco, and concrete block for up to 10 years in some cases. They protect against heat, sunlight, cold, and wind and are flexible enough to stretch as cracks underneath expand and contract. Originally designed as a waterproofing agent, they are 10X thicker than regular acrylic paints and come in lighter colors.
Because of the thickness of the elastomeric coating, it's best to apply it with a roller and brush method than spraying it. Some people use an airless paint sprayer but need to also backroll the paint to ensure adequate coverage. It's much more expensive to use elastomeric than exterior house paint because it covers less square footage. In fact, it usually takes two coats of elastomeric paint coating to properly paint the exterior of a home.
However, painting experts are concerned about the limited breathability of these thick coatings. Elastomeric may trap moisture vapor inside exterior walls and promote wood decay and mold because they are heavy coatings that weigh more than paint. Furthermore, if your home has multiple coats of paint on its stucco exterior, you don't want to paint over it with heavy elastomeric paint because if not applied tightly over the existing paint, the underlying paint could be pulled away from the stucco.
To repaint it, you would need to completely remove the elastomeric from the exterior of your home because as it ages, it forms pores that prevent any new paint from adhering properly. Pressure washing and sandblasting can't remove elastomeric; the coating must be removed by scraping it off which is very labor-intensive.
How To Paint Over Elastomeric Paints

Apply a 100% premium grade exterior acrylic latex finishe are the top recommendations when painting over elastomeric paints. They also come in different sheens. It is important to choose quality paint and follow the necessary steps to prevent cracking, which is the primary concern when applying new paint over elastomeric paint. Here are some tips to help you achieve top results:

- Apply paint under the best weather conditions.
- Use the recommended DFT for sufficient film thickness. If you are using acrylic paint, the DFY should be 1.5–2.0 mils per coat.
- Apply two coats without any thinning. Use premium quality 100% acrylic latex house paint recommended for application over existing elastomeric paint.
- Use a flat, satin or semi-gloss finish. As a rule of thumb, two coatings (1.5 mills each) are enough for dry crack-resistant finish.
Exterior House Paint Option #2 - Acrylic Latex
Presently, acrylic latex paint is recognized as a much better exterior paint alternative because of its better breathability and water- repellent characteristics on wood, stucco, brick, vinyl, and aluminum. It comes in a great variety of colors and remains flexible after painting to accommodate for any changes in temperature or house settlement. It is also less expensive than elastomeric paint and easier to touch up. As a result, it keeps the exterior of your home looking good longer even during the lengthy periods of extreme heat we endure here in Northeast Florida. Likewise, the color of acrylic latex paints is less prone to fading than other wall coatings. Furthermore, acrylic latex paint has improved adhesive properties that combat mold and mildew and permit exterior house painting at temperatures as low as 35 degrees instead of the long-time recommended 50 degrees.
When selecting an acrylic latex paint, it's important to opt for a high-quality paint that contains 100% acrylic polymers and resins so it feels thicker, levels nicely when applied, and hides the old paint layer.
Over to you! Which exterior house paint option did you choose the last time you updated your home? How did the paint last?
What Type Of Exterior Paint Finish Is Best

Satin/Low Sheen: This tends to provide better long term durability compared to a flat finish. It does have a slight shiny finish that is noticable and it's a low-reflective finish that's somewhat good at hiding imperfections. It's also easily to wash, and stands up to abrasion better than flat or matte paints.


Recent Articles and post
Don't Gamble on exterior paint: Invest in the Best

Why your DIY exterior paint job didn't work
If you're looking for stucco painting we can help!
We offer exterior painting for residential and commercial properties.
­­A New Leaf Painting is Northeast Florida's premier interior and exterior painting company serving the greater Jacksonville, Florida, and St Augustine, Florida residential and commercial communities.
Our company prides itself on the excellent service we provide to our clients and the community. We offer only top-quality workmanship performed with integrity, honesty, and care, treating each home as if it were our own.
We are Angie's List Award winners for 2012,2013 2014, and 2015, as well as, Best of Houzz for 2014, 2016, & 2017. Our Better Business Bureau rating is A+ proving we know what it takes to improve your home's appearance so it looks it's very best. If you're looking to turn over a new leaf when it comes to your home's appearance, contact Thomas Drake at a New Leaf Painting at 904-615-6599 or tdrake@aneleafpainting. Our estimates are always free.